I love Rome, the city where I was born and grew up, where the word "wonder" for me still exists after 70 years.
I love this crazy but charming city like no other city in the world, and I have seen many places …
I love this city for its colors that recall the nuances of our planet, from ocher to red amaranth, from pale yellow to mahogany to deep purple, a palette in the open air.
If someone asks me why Rome and not Paris, London, two cities that I love very much and where I have also lived, the answer is unique: its colors. Rome's colors are unique, are powerful and gives you a vital energy.
Walk around the chaotic streets with your nose up in the air to discover gardens, breathless landscape, kaleidoscope of architectural styles, a chaos but also the desire to discover a city that never ceases to be discovered ….
I love this city that makes me crazy for her confusion, but also for its uniqueness and for the emotions that still I can try.
This is the place I love the most ever in Rome and I go there just as soon as I can, alone or in the company of friends or my guests …. be there at sunset puts chills and intense emotions …. the square is a magical scenery, sounds and music that are crossed together, people walking and remains enchanted with his mouth open in front of this unique monument in the world, with the largest dome in the history of the world and the best preserved monument of Rome .
Bus 628 from Largo Augusto Imperatore
When I'm feeling romantic and I need to relax and enjoy one of the many amazing sights of Rome, I take a walk in the Orange Garden in Aventino neighborhood. During the flowering of the orange trees, entering into the garden the scent of orange blossoms (zagara) is heading, and remains on my body for a long time and his memory is indelible ….. the smell never forget!
Savelli Park, better known as the Orange Garden is a small terrace on 'Aventino overlooking the Tiber. From this angle, one of the most loved and frequented the city, you can enjoy one of the most beautiful views of Rome.
Nearby must see the church of Santa Sabina and the mystery of the " mystery hole" at Villa del Priorato dei Cavalieri di Malta in Piazza dei cavalieri di Malta (open 24 hours).
Piazza S. Pietro d'Illiria, via di S. Sabina, clivo di Rocca Savella
Bus 628 from Largo Augusto imperatore
close at sunset
A place outside of rounds "hit and run" tourists, where you can admire a palace of the Roman nobility of the past, even with its furniture and many paintings of great value, including a Guido Reni, Jan Brueghel the Elder, some Caravaggio and some beautiful paintings by Artemisia Gentileschi, a 1600s artist that I love so much.
Not to forget the fantastic architectural perspective created by Borromini that entertains adults and children.
Near the beautiful Piazza Farnese, site of the French Embassy and the colorful Campo de 'Fiori, the site of a market for fruit, vegetables, fish and many flowers, where Giordano Bruno was burned as a heretic.
Street Art in Rome with…. aperitif & ice cream
Rome also has its own piece of contemporary history, even through the "street art" now present in several areas of Rome.
The part I love most is the one located in the Ostiense district, very close to Piramide (stop Metro B). Getting lost in the adjacent streets to Via del Porto Fluviale gives me constant surprises and then stop and take a good drink in a trendy restaurant in the neighborhood to Porto Fluviale or an ice cream in one of the best ice cream shops in Rome La Romana… very patiently for the queue of people.
Maxxi + Parco della Musica
I attend very often these two places because they offer a variety of activities, but also a nice place where to meet a friend to take a cup of coffee or visit their libraries or just to take a nice walk, in a quiet environment. It is called "the way of the arts", as it includes the new pedestrian Music Bridge, the Maxxi and Auditorium Parco della Musica.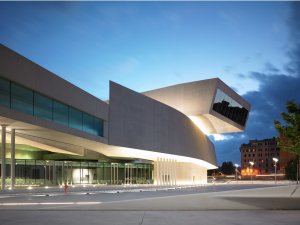 These two cultural sites are located in the north of Rome, easily accessible from Piazza del Popolo  by tram no. 2 for 4 stops (get off at the bus stop Apollodoro). On the right there is the beautiful Parco della Musica, the second largest audience in the world and the first for the number of events that take place within it. On the left there is the new Maxxi Museum of Contemporary Art, designed by the Iranian architect Zaha Hadid. It was formerly a tram depot and now the exterior has remained as it was before, while, as you enter a set of lines and colors make it very attractive to my eyes. There are often some very interesting exhibits.
Nearby there is a typical Roman trattoria that often attend both before and after a concert. (Trattoria Tiepolo, Via Tiepolo 3 G.B. – www.tiepolobistrot.it)
I strongly suggest to get a ticket for a concert well in advance or just have a guided tour at Parco della Musica… it is worthwhile.
You cannot miss this tempting bar where to sip a wonderful cappuccino or coffee and delicious cakes or enjoy a memorable cup of tea. I love this place and go here when I want to relax with a very good friend to have a nice chat.  They also make very good brunch on Sundays.
Via Vittoria 44
One of my favorite restaurant in Rome, where the tradition of Roman cuisine is expertly mixes with that of the Jewish kosher food. I love especially the artichokes with the crispy look of open roses, eggplant or artichokes parmigiana and end up with a variety of sweets of the Jewish kitchen with scents of almonds, honey and many spices. Umberto, the owner, is always available to tell the old traditions of Rome and wisely to pamper their guests.
Nearby  there is a Hammam wellness center (Aqua Madre Hammam), where you can relax with a hammam and some regenerative massage in the hearth of the Jewish Rome.
Usually I go here for my birthday with a couple of friends to do a good hammam,  ending up in front of excellent artichokes from Nonna Betta…. good for the health and for the spirit!
My father used to bring me there for an aperitif just to make me feel like a princess, and I did feel.
It is a historical café, the oldest literary café in Rome located in Via Condotti, one of the most exclusive shopping streets of Rome.  This café should be the first in your list not for the quality of the coffee but because it is one of the oldest in Rome. A little dusty and worn out, the place is definitely worth a visit for its history. Walk inside, have a look around and have a coffee or cappuccino at the counter.The price charged for a café at the table it is not worth unless you want to write, read or just doing some people watching.
Via Condotti 868
Ristorante Canova Tadolini
This is a special place you should not miss.  It used to be the studio of Canova the sculptor that made one of the masterpiece statue "Paolina Borghese" now present at the Galleria Borghese inside Villa Borghese (don't miss this place and book it in advance).
Even if the food is not the best I had, a good stop for a cup of coffee is a must. The restaurant is a museum at the same time. You look around and you can imagine Mr. Canova, sitting next to your table as he is  preparing to carve a new work of art, perhaps a goblin or a languid woman thinking back nostalgically to his love…… I am a dreamer!
Via del Babuino 150
Palazzo Valentini + Chiesa Valdese
La Domus Romane a Palazzo Valentini, now seat of the Province of Rome. A place that must be seen if you want to learn more about ancient Rome. And 'required to book in advance to secure a place. A tour that will take you to the old Roman period. A house of a rich Roman family, even with an internal thermal bath, found by chance during some of the floors restoration work. You visit with a technological tour in limited numbers and each year, a new area, is open to the public. They say that it is an endless area to discover and it will bring till the Coliseum. Through this visit we know better the decline of the Roman Empire and the history of old Rome. A fascinating place that I never get tired of visiting.
Close to Palazzo Valentini is the Waldensian church where in some evenings, are held small concerts and even the opera. The advice for those wanting to experience opera music and listen to some beautiful romances popular in a particular environment.