Pasta alla Amatriciana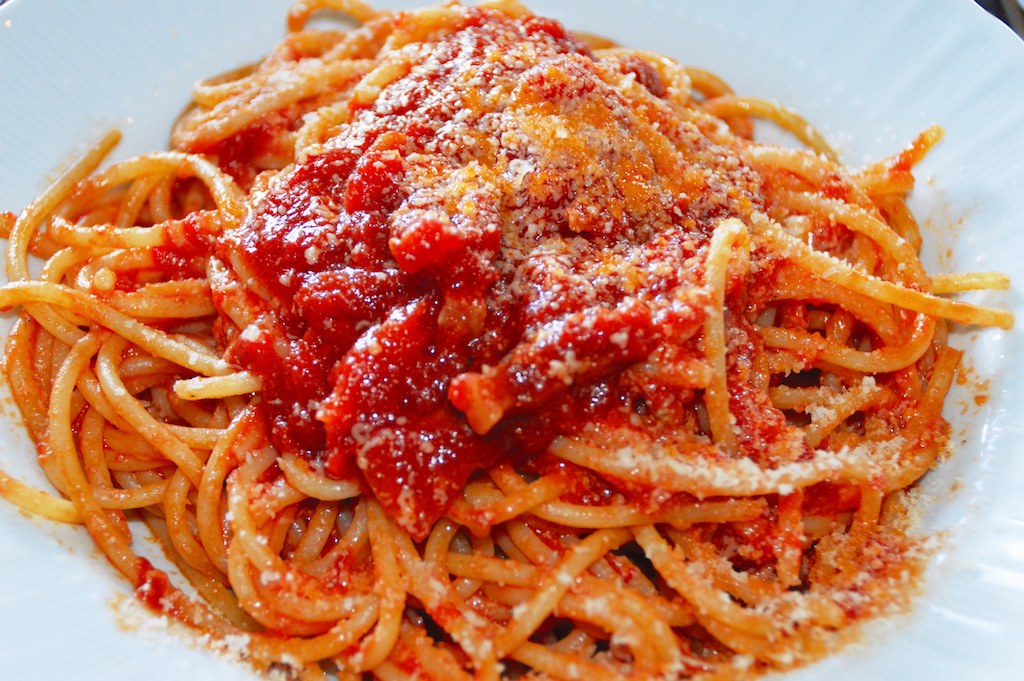 Pasta alla Amatriciana
This recipe of Pasta alla Amatriciana has been recently protected by the city of Amatrice with a mark of origin.
Ingredients:
Spaghetti: 400 grams.
Guanciale (pork cheek) from Amatrice: 100 grams.
Pecorino from Amatrice: 75 grams.
San Marzano tomatoes: 350 grams.
Extra virgin olive oil: 1 tbsp.
Dry white wine: 50 ml.
Salt, pepper: q.s.
Red pepper: 1.
Recipe
The experience begins with a pan (if the iron, the better) bacon into small pieces, olive oil and chili oil. The proper relationship between the guanciale and pasta is one quarter: thus, for 500 grams of pasta should use 125 grams of guanciale.  Cook on high heat for a few minutes and deglaze with white wine.
Remove the bacon from the pan and the oil and keep it aside, warm.
Combine the oily remained in the pan  with the tomatoes, which must be cooked for a few minutes, adjusting it with salt. The tomatoes should be broken with your hands before putting them in the pan. Remove the chilli, which at this point will have given its flavor and avoid burning it to the sauce and add the guanciale cubes ending to cook and thicken the sauce.
Well, not really: once cooked the pasta al dente (a good pasta extruded through bronze, maybe Gragnano, would be the best and it would be a shame to spoil the dish with a low spaghetti quality !!!), put into a bowl with grated pecorino.
Mix the pasta with the cheese then add the sauce.
Enjoy your meal!
SOCIAL ACTION 2017
After the event of the earthquake and with the spirit of contributing to the reconstruction of places destroyed by the event, full of history and of Italian culture, I thought to involve all my guests, for the next 12 months as follows:
At the arrival of all my guests in Rome, a welcome basket will be delivered with all the ingredients to make a good amatriciana.
For guests to Spoleto the pasta is the specialty of Spoleto: strangozzi Spoleto sauce.
You can do it either during your stay or when you return home, carefully considering if you can bring your pork bacon and pecorino with you on your travel back home.
Once prepared your dish, take a nice picture of your dish and send it to me.
I will put your pictures in a large map of the world and for each photo will offer 5 euro to be allocated to the reconstruction of Amatrice.
The  bank transfer has been made on December 2017 together with another social action "Te la cucino io la matriciana" .
At today we have only 2 pictures…. but I know many have prepared the dish.