Water Clock in Villa Borghese § Rome §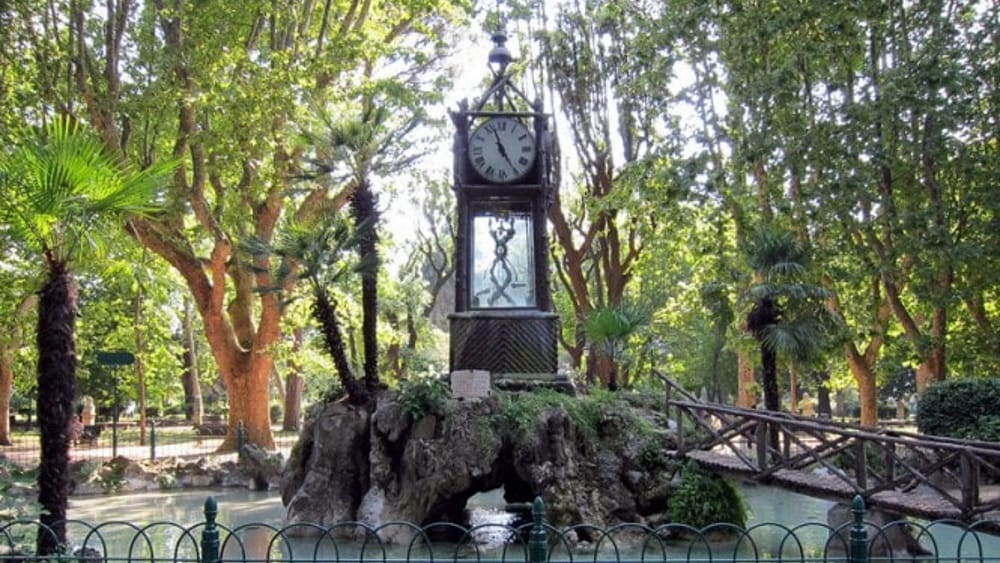 The Water clock in Villa Borghese was designed in 1867 by Giovanni Battista Embriaco, a Dominican friar passionate about watches and engineering.
It is located in the beautiful Villa Borghese in Roma overlooking Piazza del Popolo.
In the same year, Padre Embriaco sent a prototype of his Water Clock to the Universal Exposition in Paris where, for fear of breaking it and technical difficulties, it was not even removed from the boxes in which it was packed (Source: Destinazioneterra).
Romans and tourists could only admire this marvel starting from 1873.
The work, with its dials that recalled the cross-section of a tree and the shaped hands in plant forms, was inserted with harmony in the context natural beauty of Villa Borghese.
But how does this extraordinary invention work?
The clock works, thanks to the presence of water that, falling from above, fills two elongated basins in the shape of leaflets (similar to two plates of a scale), poised on a pin. The two swinging basins activate the mechanism that makes the hands turn, thus marking time. The water flow also moves the pendulum and loads the ringtone.
In short, a true work of engineering.
The wooden turret, made with the use of cast iron, is closed by glass walls and above it there are four clock dials, placed on all four sides, making visible the time marked by each position.
Walking through Pincio Park the large Water Clock remains almost hidden as it is surrounded by dense vegetation made of palm trees, rocks, and a small pond. The silence, broken only by the flow of water, the wooden bridge, and the rocky and lush islet on which the Clock stands, carry the visitor into a magical, timeless dimension; a contradiction if we think of the object we are talking about.
This "casket" setting and the turret containing the mechanism were designed by Giacchino Ersoch in perfect rural style, designed to evoke the forest.
Next to the clock, there is a Theater for children called San Carlino